Here's how to plant the parasol on the beach to prevent it from blowing away. A brilliant tip
Whatever we say, the parasol is surely the best investment at this time of year to spend a great day at the beach. It is still necessary to bet on an article of good quality, resistant and solid. To protect yourself from UV rays and spend a moment in peace, it is the ideal ally during the summer season. But, no one is immune to certain inconveniences: as long as there are a few gusts of wind, you have to be very vigilant because your parasol can fall on you without warning or on one of your relatives. Worse still, it may fly up and frolic on the sand, possibly injuring your neighbors at the beach. Don't worry, thanks to these little tips, your parasol won't move out of place!
A few tips to prevent your parasol from flying away at the beach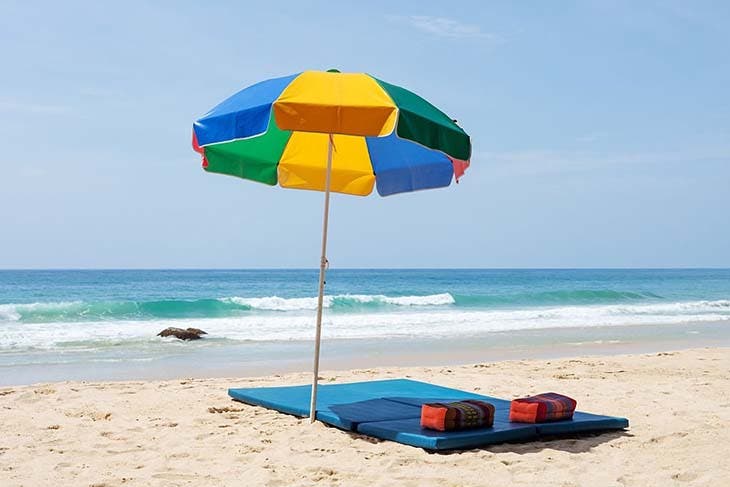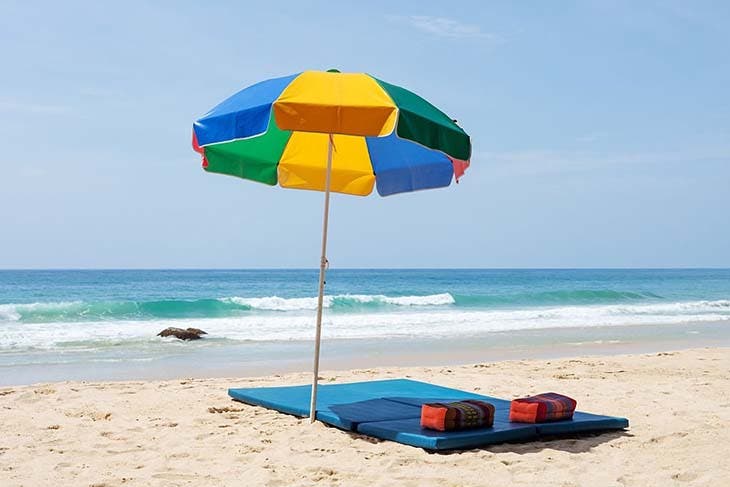 Above all thing, the best way to avoid this kind of inconvenience is to buy a plastic spike that sinks into the sand. You can find them online or in any accessible beach shop in all coastal areas. Without a doubt, this is the most judicious method to properly nail it to the beach.
Of course, the choice of parasol is often difficult because they come in all shapes, colors and prices. However, we recommend that you prefer the most optimal models with two bars at the top, which are used to turn and push the skewer deep into the sand. By opting for this type of parasol, be sure that it will not fly away easily and that it will last you all summer long. In addition, to guarantee this, you can even moisten it slightly before gluing the skewer and the parasol.
As a general rule, most people build a mound of sand around their parasol to prevent it from moving. In reality, it does not have much effect, but for safety reasons, it is better to adopt all the precautions to avoid possible accidents. Also, be aware that when there is a lot of wind at the seaside, the convex part of the parasol must exert resistance. Therefore, before nailing it, always observe where the air is coming from to position it correctly.
Another interesting tip: take a plastic bag , fill it with sand, pebbles or whatever you think is practical to give it more weight and hang it on one of the poles of the parasol. With all that, it would really take a monstrous storm to get it off the ground!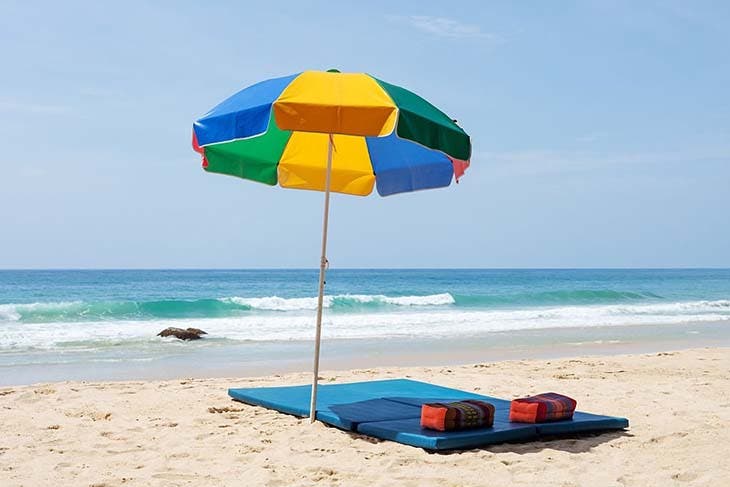 A parasol on the beach – source: spm
Between dust, sand, insects and pollution, your parasol ends up getting dirty very quickly. It is therefore necessary to clean it frequently. It is therefore necessary to dust it and remove all dry residue with a scrub brush or a broom made of sorghum straw.
If you consider that a cleaning is necessary, get:
· A sponge and a brush with non-rigid bristles.
· Colorless soap or detergent with neutral pH (possibly ecological) that you will leave to act for a few minutes.
· Warning: diluted bleach and trichlorethylene should be used sparingly only on stubborn stains, to avoid discoloring or damaging the parasol material.
· The wooden, steel and/or aluminum components of the parasols can also be washed in cold water and with suitable detergents.
Removing mold from synthetic fabrics
Yes, even your parasol can be the victim of brown, black or greenish stains, characteristic colors mold ticks. Rest assured, it is possible to eliminate them quickly with the following method: dilute 1 glass or 1 cup of bleach (approximately 213-240 ml), in 4 liters of hot water and rub thoroughly. Then rinse with a sponge soaked in cold water or with the rubber hose you use to water your garden.
Other recommendations
· You can also apply baking soda to neutralize any bad odors caused by mold. And, optionally, for pre-treatment, you can merge coarse salt with warm water. These are natural and ecological remedies!
The hard-bristled brush will help you remove stains effectively, but use it carefully, as it may damage the fibers of your parasol's fabric. Do not scrub too hard!

Read also 8 tips for revising children while having fun in the summer