Eliminate all traces of the parquet to leave it as new: just use this common product
Stained, ceruse or Scandinavian parquet… This floor covering is not lacking in character or elegance. It is therefore necessary to maintain it so that it retains its charm and its warm side. With simple and inexpensive products, you can clean your parquet to give it a shine without effort.
Parquet brings a touch of elegance to your interior decoration. It is the timeless covering that has become trendy in terms of interior decoration. However, wood is a porous material that requires careful maintenance. The products that are used to clean it must then be chosen with care, taking into account the characteristics of the floor.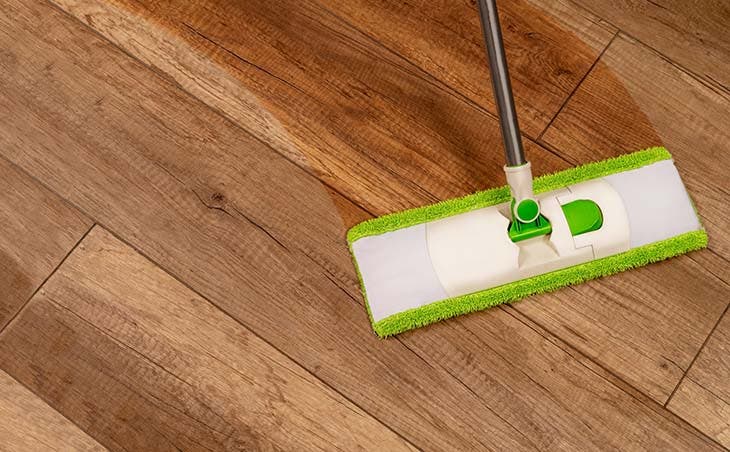 Cleaning a wooden floor – Source: spm
To properly clean your parquet, it is possible to use simple and natural ingredients. These will eliminate stubborn stains on your floor but also give it a shine.
The black soap to clean the parquet floor

Black soap – Source: spm

Black soap is your best ally for cleaning all types of parquet. In addition, it is a soft and mutli-use product. It is both a cleaner, a degreaser and a stain remover. To use it, simply dilute a glass of black soap in the equivalent of 5 liters of lukewarm water before gently rubbing the stains with a clean microfiber cloth. Then pass a mop soaked in this product. Nevertheless, be sure to wring well before wiping to prevent the wood from absorbing water. The action of black soap will not only sanitize the floor but also make it shine.

White vinegar to clean a waxed, oiled or laminate floor

White vinegar is an essential product for cleaning several types of parquet. Known for its anti-limestone properties, its acidity helps cleanse and shine all types of floors without damaging them. For this you will need:

250 ml of white vinegar
4 liters of hot water

Start by dusting the floor by vacuuming or broom. Then pour the two ingredients into a bucket. Then dip a mop in it before cleaning your floor with this solution. It is recommended to insist on traces and stains on the parquet by making "S" movements. Be aware, however, that white vinegar should never be used pure on the parquet to avoid damaging it.

Olive oil for a mirror effect on the parquet floor

Olive oil – Source: spm

In order to minimize traces and scratches on the parquet, olive oil is a great ally. Without damaging surfaces, this natural ingredient both nourishes and polishes the wood. To take advantage of its properties on the parquet, simply soak a cloth with a few drops of olive oil before wiping the area concerned. The operation should be repeated several times for greater efficiency. It is also possible to use this natural product in other ways by mixing ½ cup of white vinegar with ½ cup of olive oil in a bowl before spraying the solution on the floor. Then mop the surface to achieve the desired shine. However, take the time to dust the surface well before polishing it with olive oil.

There are many cleaning solutions. They depend mainly on the type of parquet but also on the nature of the stain on its surface. Having learned about the best natural products for your parquet floor, all you have to do is test them at home!